CAV Canada 2019 Registration, Sponsorship & Showcase Opportunities Now Available



Anchored in the nation's capital and one of the world's top tech hubs, CAV Canada is the must-attend event for any innovator, organization or community driving the safe development, commercialization and deployment of connected and autonomous vehicles (CAVs).
CAV Canada 2019 is a must-attend event for any innovator, organization or community this is driving safe development, commercialization and deployment of connected and autonomous vehicles (CAVs). Co-hosted by Kanata North Business Association and Invest Ottawa, and in partnership with CAVCOE and the Ottawa L5 Test Facility, this year's national event will take place September 9th and 10th at the Brookstreet Hotel in Kanata North – home of Canada's largest tech Park. The event will showcase two days of networking with prospective partners, investors, customers and talent plus a first-rate program to expand your knowledge.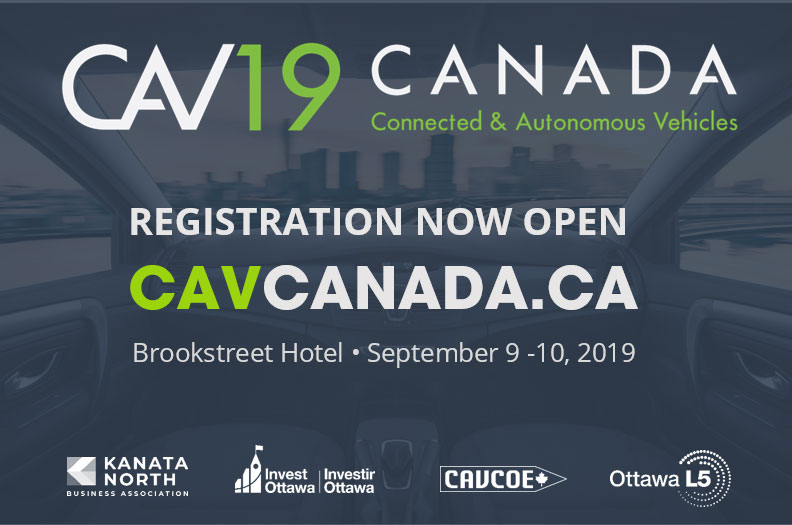 On Day 2, the conference will also feature an opportunity for delegates to register for tours to see demonstrations of innovative CAV technology both at the new Ottawa L5 CAV Test Facility and tours with CAV leaders in the Kanata North Tech Park.
View the working agenda, sponsorship and showcase opportunities as well as registration information at www.cavcanada.ca. To learn more about possible sponsorship or exhibitor opportunities, please do not hesitate to reach out to Ann Clemensen at ann@cavcanada.ca.
In celebration of National Autonomous Vehicle Day on May 31, 2018, the Kanata North Business Association (KNBA), together with Invest Ottawa and Canadian Automated Vehicles Centre of Excellence (CAVCOE), announced the development and launch of Canada's first Autonomous Vehicle Technology and Innovator Directory. The first of its kind, this unique and valuable resource provides a comprehensive overview of the growing number of contributors to the Canada's AV ecosystem. This will include innovators, companies, post-secondary institutions, and other organizations with AV technologies, solutions, and knowhow.
Ottawa is Canada's AV Capital
The City and BlackBerry QNX are working collaboratively with organizations such as Invest Ottawa and the Kanata North Business Association, as well as researchers and academics at Algonquin College, Carleton University and the University of Ottawa to further establish Ottawa as Canada's AV capital.

Together, these industry leaders will bring the emerging connected car and AV technologies, products, services and applications developed in Ottawa to the global market.
Ottawa is the first Canadian city to launch testing of an on-street autonomous vehicle (AV) communicating with live City infrastructure.
By partnering with BlackBerry QNX and its Autonomous Vehicle Innovation Centre (AVIC), Ottawa now has the facilities and technology to further the advancement of driverless car testing on active public streets.
There are over 70 companies in Ottawa's AV ecosystem, led by BlackBerry QNX, that are directly contributing their expertise, technology and intelligence to connected cars and autonomous vehicles.
At the heart of Ottawa's powerful cluster of advanced networking, software and IoT expertise for autonomous vehicles is Canada's largest technology park – the Kanata North Technology Park.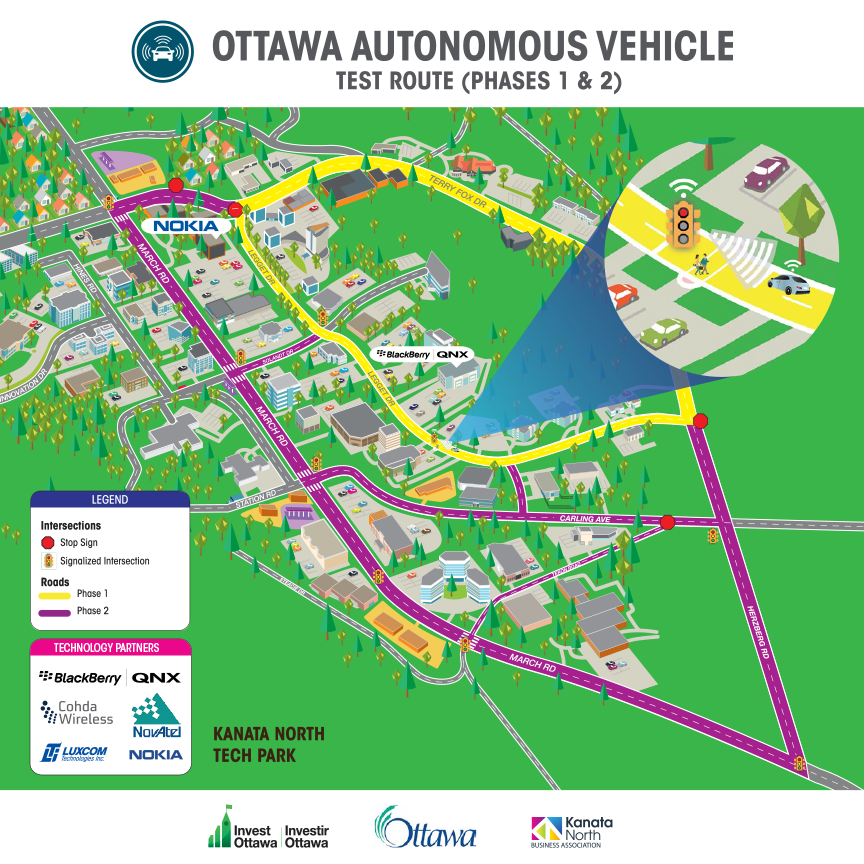 The test route, which loops around the Kanata North Technology Park, is equipped with the latest technology from BlackBerry QNX, along with Codha Wireless, Luxcom Technologies and NovAtel. The City's Traffic Services have optimized the infrastructure within the test route area for communication with autonomous vehicles via Dedicated Short Range Communication (DSRC) transmitters at the traffic lights, re-painted street lines in the test area, and accelerated installation of controllable LED street lights. In the next phase, Nokia will be joining the testbed to add LTE and 5G capability to the route, based on their experience deploying connected car solutions in Germany and elsewhere. The City and Ottawa's technology community are committed to working together to ensure that the testbed is continually being updated with leading-edge technology.
Want to learn more about AV innovation in Ottawa? We are proud to support the researchers, technology developers and companies that are making breakthroughs – and making AV a reality!
We look forward keeping you updated on all exciting news in our region, and welcome your questions, comments and feedback! Drop us a line at innovation@ottawaavcluster.com
Want to learn more about why Ottawa is Canada's AV Capital?
Take a look at how our city is putting the pedal to the metal, and accelerating the innovation with lots of exciting news. The world is watching!